The #1 DER & EV Infrastructure Modeling Platform for Consultants
Differentiate Your Energy Transition Offering
Engage your energy transition clients with more specificity, sophistication, and speed using Xendee.
More Robust Analysis, Made Even
Faster
With Xendee, quickly analyze and model for net-zero, resilience, electric vehicle charging, and cost reduction objectives.
Quickly demonstrate value by engaging customers using their data in hours, not days.
Quickly run sensitivities on DER, Microgrid, and EV technology and other assumptions to ensure recommendations for your clients are robust.
Detailed techno-economic and financial data from every optimization can be exported and easily manipulated.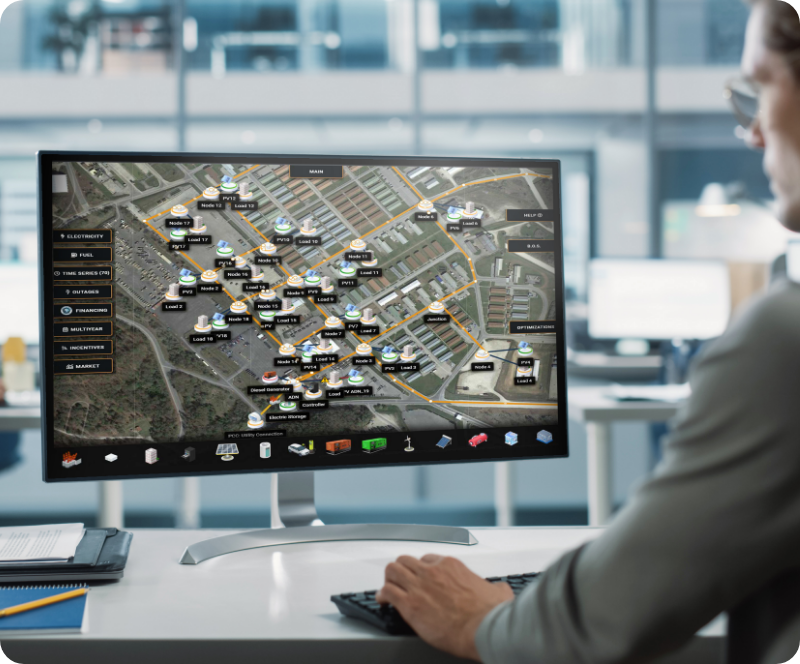 For clients with a portfolio of hundreds or thousands of sites, leverage DISCOVER to generate a portfolio view of total carbon reduction. Rank order the entire portfolio to identify the top sites that will give your client the highest return on investment. Do this in days, not months.



Quickly model your client's site by choosing from 25+ DER technologies, including EV charging. Demonstrate an optimal path towards scope 1 and scope 2 carbon reduction, increased resilience, and lower energy costs.
Xendee has enabled us to rapidly optimize renewable energy solutions across hundreds of sites in order to quickly identify where to prioritize to drive savings, increase resiliency, and reduce emissions. The interface and output have been impactful with clients and have helped us drive business outcomes.
Top-Tier Global Management Consulting Company
How Xendee Can Support You
Enable Your Personnel
We support your team members that are running Xendee, which allows you to deliver a faster and more reliable project.

Leverage Xendee Personnel Directly
We do the runs and analyses for you, based on your provided assumptions, requirements, and feedback.