The #1 US DoD Certified Microgrid Design & Operation Platform for Governments
Supporting You Through The Resiliency and Microgrid Project Assessment and Funding Process
The Xendee platform is built to expedite the entire project development cycle, providing the critical information you need to achieve approval and funding milestones.
An
All-Inclusive

Design Solution

Capitalize on government funding by finding the largest operational cost savings during project assessment phases.
Quickly perform preliminary project assessment by utilizing built-in databases and catalogs for your EV or microgrid resiliency project.
After funding is secured, move into engineering design, including cable and transformer modeling.
Accurately assess your cost savings and carbon emissions multiple years into the future, and move your project into construction.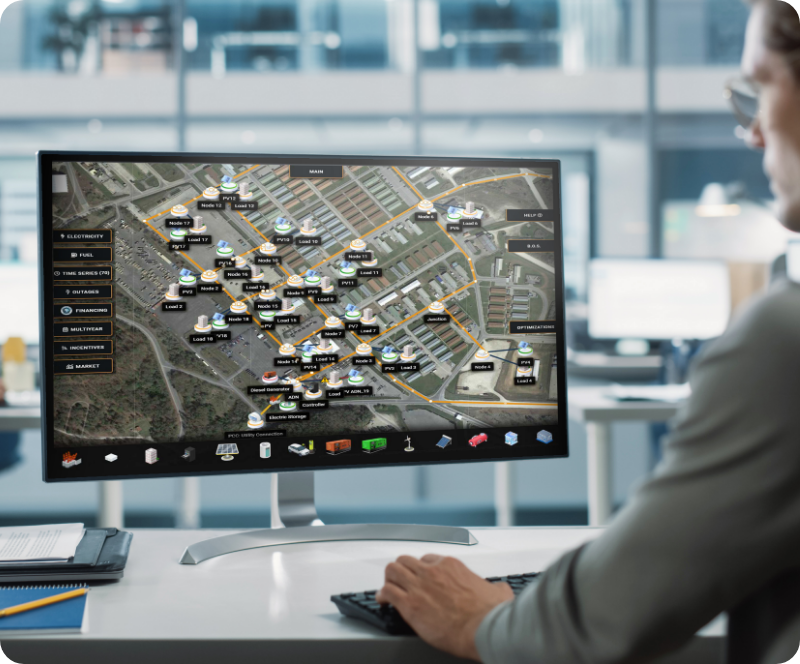 With our DESIGN product, model the different project assessment phases for your EV charging or microgrid project without the need for time-consuming manual iterations.



Capitalize on the highest savings by using our AI enabled EV and microgrid controller to optimally dispatch your project technologies in real-time.
Xendee is an additional tool in a decision maker's toolbox that can quickly and succinctly pull massive amounts of data, organize it, and allow for various modeling scenarios to be played out.
NAVFAC Utilities and Energy Manager Branch Head, Naval Station Rota
DoD Certified
Xendee has a strong track record of U.S. Department of Defense DER projects across multiple military branches. As a result, Xendee is a DoD certified, cyber secure platform.
Most Awarded
Our team and platform are the recipient of a 2021 Edison Gold Award for critical human infrastructure, Presidential Science Award from the White House, the Defense Innovation Award in Energy, and Microsoft MVP.
Community Proven
Benefit from Xendee's experience with multiple community and infrastructure projects for university campuses, schools, and military sites.
100% Resilient
Use Xendee's innovative resiliency modeling to easily design projects that can sustain any utility outage.
Cybersecurity
We have obtained compliance with the US Department of Defense's stringent Cybersecurity Maturity Model Certification (CMMC). Therefore we maintain enterprise and government class cybersecurity standards.
215,000+
More than 215,000 microgrid and DER designs have been optimized through Xendee.