INDUSTRY SURVEY + REPORT:
The Role of Microgrids and Government Funding in Commercial EV Charging
The transition to electric vehicles (EVs) is gaining momentum, propelled by both government incentives and stricter emission regulations. However, the commercial EV sector faces complex challenges in terms of developing and operating EV charging infrastructure.
To gain insight into these challenges and potential solutions, Endeavor Business Intelligence and Xendee conducted a survey among over 200 leaders in the EV charging industry.
The survey revealed three key themes:
Electric grid limitations are a primary roadblock.
Costs are a major concern making government grants imperative.
Microgrids are seen as a good solution to address these challenges.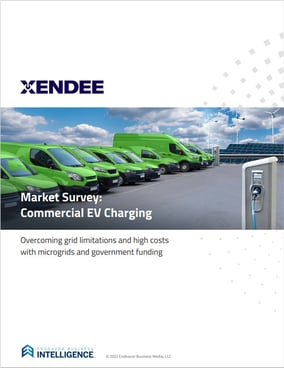 Read the Full Report Here
Electric Grid Limitations:
The Largest Roadblock for EV Charging

The survey respondents, comprising of leaders involved in the development, operation, and commercial use of EV charging infrastructure, identified electric grid limitations as the most significant roadblock to the development and operation of EV charging infrastructure for commercial vehicles.

Grid tie-in requirements, such as interconnection approval, were identified as critical factors for the success of EV charging infrastructure projects. Respondents expressed needing better tools to evaluate utility support and grid constraints during project design.

Choosing a site convenient for commercial EV fleet operations was the most important factor with 84% of the respondents saying it was crucial in deciding the location of charging infrastructure. Additionally, the ability of the existing or promised utility electric grid infrastructure to accommodate the expected charging load was of utmost importance. These findings highlight the significant need for comprehensive planning and evaluation of grid capabilities when deploying EV charging infrastructure.
"Xendee comes closest to fully integrating all phases of the microgrid scoping, design, and engineering process into a single tool—from economic optimization to short-circuit, dynamic, and harmonic power flow modeling."
-Homeland Defense & Security Information Analysis Center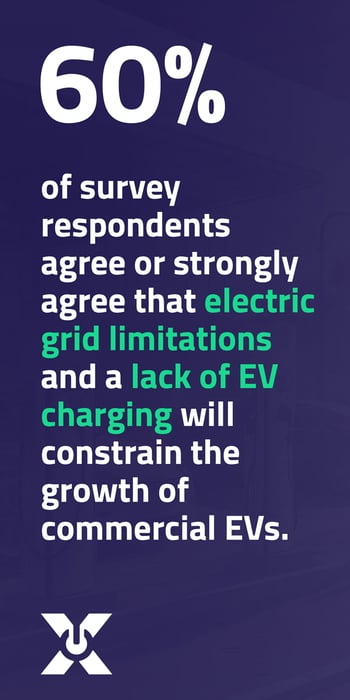 Costs Remain
a Significant Obstacle, Making Government Incentives Essential



While the market for commercial EVs is projected to grow significantly, survey respondents highlighted cost as a significant deterrent to the widespread adoption of EV charging infrastructure. Government incentives have played a crucial role in mitigating these cost challenges. The Inflation Reduction Act (IRA) and the Bipartisan Infrastructure Law (BIL) have provided substantial funding and tax credits for new EV charging infrastructure.

Interestingly, in 2021, auto executives on average predicted 65% of all new vehicle sales would be EVs by 2030. One year later, executives revised their forecast, predicting 35% of new vehicle sales would be EVs by 2030. Survey data supports a similarly tempered, but still optimistic view of growth in the commercial EV market.

The survey data revealed that these government grants, tax credits, and incentives were instrumental in helping businesses overcome cost hurdles. Respondents acknowledged the importance of government funding in making EV charging infrastructure investments financially viable saying that 75% of EV charging infrastructure projects in the next five years are reliant on BIL and IRA incentives. These findings emphasize the significance of ongoing government support to accelerate the growth of the EV charging industry.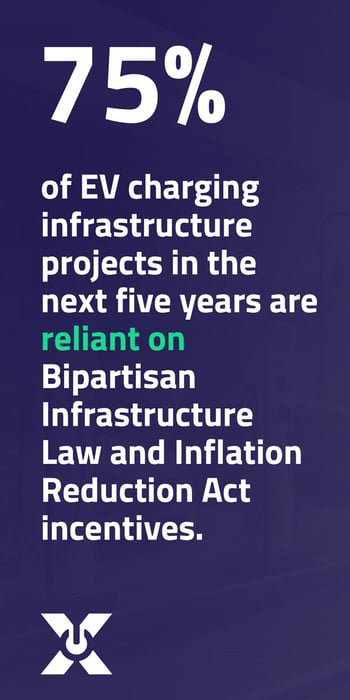 Microgrids:

A Solution to Cost and Electric Grid Challenges


Microgrids, combined with distributed energy resources (DERs), emerged as a promising solution to address both the cost and electric grid challenges of commercial EV charging. 80% of respondents expressed the belief that microgrids and DERs are essential for the growth of commercial EV usage and can help overcome electric grid limitations.

Co-locating microgrids and DERs with EV charging infrastructure was identified as a game-changing technology, delivering improved electric reliability and operational resilience. Respondents recognized the need to integrate microgrids and DERs, such as solar PV and battery energy storage systems (BESS), with EV charging infrastructure. The survey results indicate a strong interest in leveraging these technologies to optimize the performance and sustainability of EV charging projects.

In conclusion, the survey findings highlight the critical challenges faced by the commercial EV charging industry, particularly in terms of electric grid limitations and costs. However, the integration of microgrids and DERs, along with government incentives, presents a promising path forward.

By leveraging the expertise of industry partners, businesses can optimize the design, engineering, and operation of EV charging infrastructure projects. Continued government funding and incentives will play a pivotal role in driving the growth of the EV charging industry.

As the market for commercial EVs expands, it is crucial to address the limitations of the electric grid and ensure the cost-effectiveness of charging infrastructure by embracing microgrids.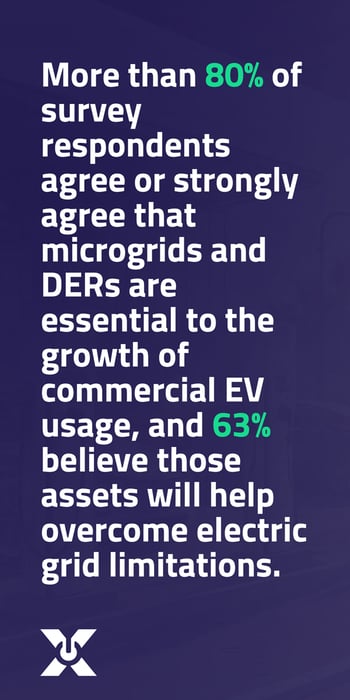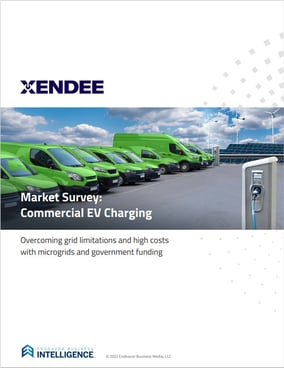 Read the Full Report Here
Fill out the form below to receive a copy of our industry report.